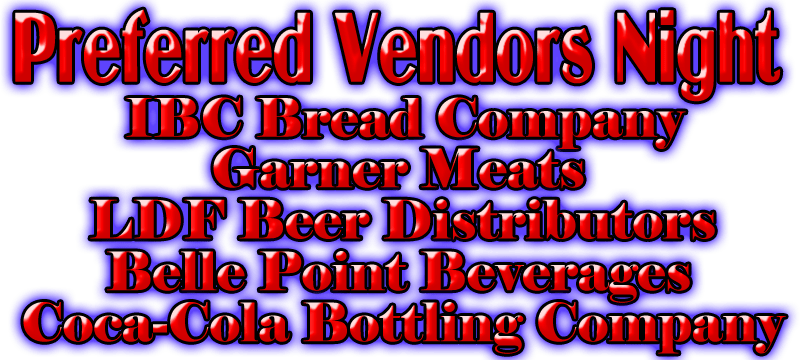 This weekend at the legendary Tri-State Speedway it will be our Preferred Vendors Night!
     All of the great warm and soft buns for your hamburgers and hot dogs come from the IBC Bread Company. Those incredible, fresh (not frozen), 100 % pure beef patties are coming from Garner Meats in Van Buren, Arkansas.
     Our "adult" beverages come from LDF Beer Distributors and Belle Point Beverages. Plus, the ice-cold Dansani water and all of the great soda flavors come from our official soft drink provider at Tri-State Speedway over at The Coca-Cola Bottling Company of Fort Smith.
     If you see any of these great vendors out and about during the week, be sure and thank them for their support at Tri-State Speedway. If you have a need for any of these products for your business, please give our Preferred Vendors a call!
     This week's point leaders coming into Saturday night's races are:
·         FACTORY STOCK – Kendall Hargrove (112) with 963 points and is 92 ahead of second place.
·         SUPER STOCK – Roy Roberts (116) with 822 points and is 40 ahead of second place.
·         FRONT WHEEL DRIVE – Kaelin Richesin (87) with 860 points and is 19 ahead of second place.
·         MINI-STOCK – Randy Norris (91) with 571 points and is 76 ahead of second place.
·         ECONOMY MODIFIED – Lance Robins (33) with 952 points and is 118 ahead of second place.
·         MODIFIED – George Martin (15) with 895 points and is 6 points ahead of second place.
    Also, this weekend, Miller Lite and Coors Light will be on sale for just $2!